Regular price
$249.99 USD
Regular price
-Liquid error (snippets/price line 66): divided by 0% OFF
$249.99 USD
Unit price
per
Sale
Sold out
These symmetrical tapered ovals can be turned in several directions for best fit to add fill where needed on either side of the body. If worn sideways they give fill on the side of the pectoral muscle and work well with strapless dresses. If worn in a vertical position with halter dresses they add fill at the top of the muscle or breast area. "Tapered" means that the "wing" at the top of the oval gets gradually thinner for a great transition to the natural tissue. (Choose a "full" oval if you want fullness up the chest or on the side. Choose a "tapered" oval if you want a more subtle transition from the form to your natural tissue.)
Description: Teardrop shaped realistic breastforms
Occasions: Great for wearing in any bra and under any shirt or dress.
Sizes: 1-14 (see fitting chart)
Colors: Peach, Sable
Gel: Standard weight gel matches natural tissue
Nipple: Internal, medium color
Details:

Symmetrical to fit either side of the body
Can be turned in different directions for the best fit and fullness. Sideways is great for strapless dresses, and vertically is great for halter tops.
Longer, thinner, "tapered" wing fits closely against the body for a natural transition so it remains undetectable in a variety of bras
Sold in pairs only

Measure to Determine your Bra Band Size

Using a tape measure, measure around the rib cage under the pectoral muscles where the natural breast tissue joins the body.  Take a snug measurement.  (This would be where the band of the bra fits around the chest.)

Add 5 inches to this measurement.

Example:  Chest Measurement = 36". Add 5". Estimated band size = 41".

Bra bands come only in even numbers, so this person would try on a 40 or 42 to see which works best.  All bras stretch differently.
Choose a Cup Size 

The Band Size stays the same, no matter how large or small you want your breasts to be.  For the size of the breasts, choose a cup size letter.

Consider height, weight, and figure style.  If you are 5'10" tall and a 42-46 bra size, generally choose a C, D, or DD cup bra.  If a size 34, 36 or 38 bra, choose a cup that balances the figure like a B or C cup.  If you choose a cup size that is too large for a small frame, it may be harder to buy clothes.  If you choose a cup size that is too small, and you have wide shoulders, or a big waist, your forms will not fill out your clothes.
If you know your best ladies' dress size, use the size chart to find a suggested cup size.  Everyone is different, but the suggested sizes are a great place to start.

 
After you choose your cup size, use the chart below to find the corresponding breast form size.  Breast form sizes vary by style with some up to size 14.  See individual product descriptions.  If two sizes are suggested (ie. 2/3) try both to see which fits best for you.
Bra Sizing Chart



32

(70 cm)

34

(75 cm)

36

(80 cm)

38

(85 cm)

40

(90 cm)

42

(95 cm)

44

(100 cm)

46

(105 cm)

48

(110 cm)

50

(115 cm)

A

1/2

2/3

3/4

4/5

5/6

6/7

7/8

8/9

9/10

10

B

2/3

3/4

4/5

5/6

6/7

7/8

8/9

9/10

10

11

C

3/4

4/5

5/6

6/7

7/8

8/9

9/10

10

11

12

D

4/5

5/6

6/7

7/8

8/9

9/10

10

11

12

13

DD

5/6

6/7

7/8

8/9

9/10

10

11

12

13

14
Putting Forms Into a Regular Bra

Lengthen the bra strap on one side.

Pull the cup away from the chest wall.

Insert the form from the inside top of the cup.  Turn the form in the direction that best fills the bra cup and looks the most natural.  Repeat on the other side.

After forms are in place, adjust the straps on each side.

Look at the fit.  Both sides should match and the bra cups should cover the prosthesis completely.  The prosthesis top tapers should prevent clothing from sinking in.  Each form should fill and not bulge at the top of the cup; plus, the forms should settle into the bottom of each cup.  The straps should not cut into the shoulders.

If the forms are too big, too small, or do not fill where they need to fill, try another style or size of form.
Putting Forms into a Pocket Bra

Spread the bra out on a flat surface with the inside of the bra facing you.

Hold the form by the edges with a flat hand so that the nipple is facing down.

Spread the elastic on the cup and slide the form in so that the nipple faces outward.

Adjust the form so it settles into the bottom of the cup.

Hold the bra up with the form inside the pocket to make sure it looks correct.

Be careful not to puncture the form or fold it.  TRANSFORM® silicone forms are very durable, but the polyurethane skin can be punctured.

These breast forms would look great under a

dress

!

Out of stock? Only in-stock items show as available on our website. If you would like to order this in an out-of-stock size or color, contact us via the online chat (lower right corner)

PASSIONAL Boutique & Sexploratorium warranties all non-sale products against defects for 30 days.
Size Chart
Share
View full details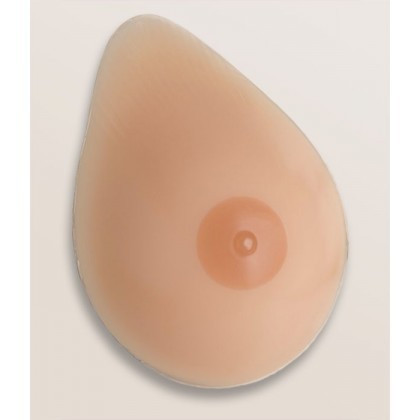 Nearly Me Suggested Cup Size
| | | |
| --- | --- | --- |
| Shirt Size | Ladies' Dress Size | Suggested Cup Size |
| | | |
| SMALL | | |
| | | |
|   | | |
| MEDIUM | | |
|   | | |
|   | | |
| Large | | |
|   | | |
| X Large | | |
|   | | |
|   | | |
| 2X Large | | |
| | | |